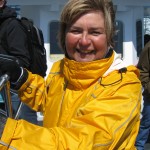 People often ask me, "What is your all time favourite destination?" I love Newfoundland! I love the people, the scenery, the food…..I love it all. Every time I take a group to "The Rock", they fall in love with it too. There is something very special about this island in the Atlantic. It brings out the best in people, it gets under your skin and into your heart so when you leave you find yourself planning your return. My next Great Escape to Newfoundland is in the summer of 2014 and I can hardly wait to return. Maybe you could come with me!
Ten Things I Love about Newfoundland: ( I had 100 but that's a little long for my first blog post)
Everywhere you look there's the contrast of colours.

The ladies of St James Anglican Church in Lark Harbour….they do a wicked pot luck lunch!

Toutons and beans with molasses…..really 

Standing on top of Signal Hill at night and looking down on the city of St. John's

Ed, a retired teacher from Grand Falls who does a screech-in like no other.

Rocky Harbour in Gros Morne National Park….what a vibrant community!

The Newfoundland dialect….I loves it!

Beautiful Bottle Cove on the west coast

Quidi Vidi Beer – especially their Iceberg beer in the pretty blue bottle

The Crow's Nest in St John's….a unique "officer's club" with a colourful naval history dating back to 1942.